Kamloops Canoe and Kayak Club (KCKC)
---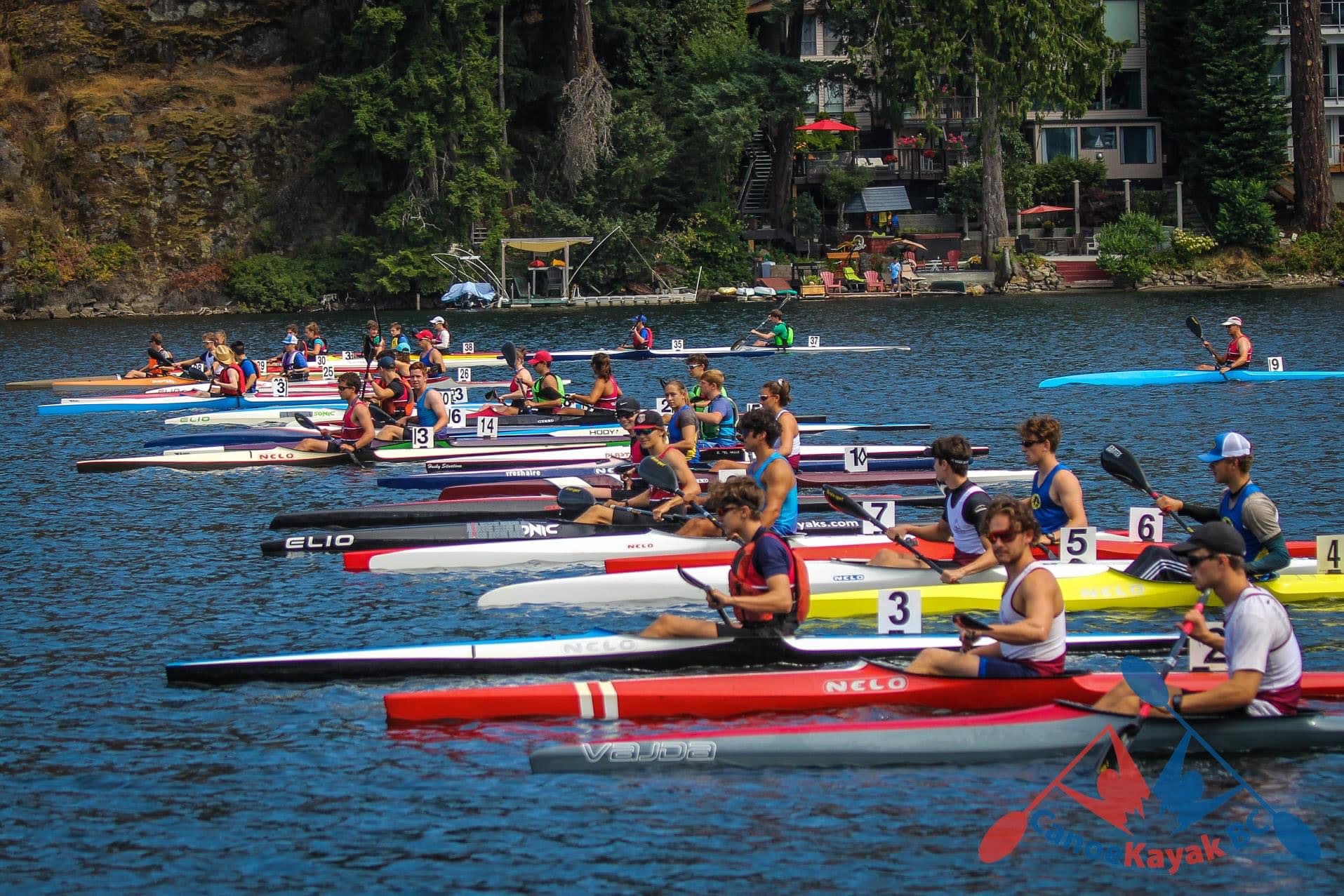 KCKC serves the community with flatwater canoe and kayak opportunities, in a safe and positive environment lead by nationally certified coaches. Members in our club train for, and race in the provincial sport organization Canoe Kayak BC and nationally in the sport organization Canoe Kayak Canada sanctioned events in both canoes and kayaks. We primarily compete in sprint races (200m to 6km). Our athletes have the ability to race in single, double and/or four person canoes and kayaks.

Athletes from Kamloops have raced at every level of the sport, from Canoe Kayak BC regattas to the World Championships.
---
The Kamloops Canoe and Kayak Club (KCKC) has been a force in the sport community since 1990. Since its inception, our club has been dedicated to making a positive difference in the community, and has been focused on providing youth with opportunities to develop physical literacy, healthy lifestyles and leadership skills.
Hosts of the Canada Summer Games canoeing and kayaking events at Shumway Lake in 1993, KCKC has built steadily upon the legacy of the Games, and in 2012, achieved the financial and organizational capacity necessary to hire Stanislav Marek as our full-time Head Coach. With the vision of the KCKC Board now matched with the expertise and energy of Stanislav, the club is poised to become a local, provincial and national leader in both the sport and broader community.

In less than 18 months under Stanislav's leadership, KCKC athletes won a number of medals and became Canadian Champions in two events at the Canoe Kayak Canada National Championships. Competing against older athletes with years of continuous coaching, our athletes exceeded expectations by winning medals at the Canada Games and the Western Canada Summer Games. Three KCKC members were named to the Junior National Development Team, and two members training in Ontario were members of the Canadians Senior National Team that year.
In 2013, facing a highly competitive field, the Kamloops Sports Council named Zach Morgan the Kamloops Male Athlete of the Year, and named Stanislav Marek the Kamloops Coach of the Year. KCKC was eager to build on this tremendous success by partnering with community organizations that share a commitment to empowering youth, to creating sustainable programs, and to contributing to local, regional, provincial and national success. This vision continues with the next generation of paddlers who have been named to the Canoe Kayak BC provincial team in 2023. Currently there are eight KCKC athletes training at a level that is bringing attention to our club.
Past KCKC paddlers have competed at the Pan-American Canoe Championships, Sprint World Cup events, World Marathon Canoe-Kayak Championships, and World Sprint Canoe-Kayak Championships. Stanislav's education, diverse paddlesport experience, and proven ability to build both healthy canoe clubs and elite training groups will allow KCKC to provide consistent, high level programming for paddlers of all ages. We aim to serve as many community members as possible while supporting the Olympic dreams of our youth.
KCKC offers an array of programs in order to achieve our goals of being inclusive and accessible to as many community members as possible. KCKC employs certified instructors for our week-long summer camps and school group day camps, which focus on teaching youth paddling basics, goal-setting, and race dynamics in a safe, positive, and equitable environment. KCKC provides Learn to Paddle, Learn to Race and Family Learn to Paddle sessions in the evening, and, in partnership with the Kamloops Indian Band, offers summer camps dedicated to First Nations youth.
Partnering with other community organizations is one of the many ways that KCKC reaches beyond the club boundaries. We work with Thompson Rivers University to offer programs to Francophone and international student groups, participate in "sport swaps" with other sports clubs, such as the Overlander Cross Country Ski Club, and partner with PacificSport Interior, Kidsport, and the Canadian Sport Centre to deliver quality programs.
Ultimately, KCKC measures success in terms of happiness. We work hard to ensure that our members enjoy their time learning, training, racing and playing in an environment that builds skill and confidence. Our athletes, from youth to master, sprint kayaker to dragon boat paddler, are leaders in our community. KCKC volunteers host local, inter-provincial, and national level events, and are involved in a wealth of other community groups and events. The willingness to "pitch in," to make a positive difference, and to contribute to a vibrant community is valued highly at KCKC. As we plan the future of our club, we are looking for partners who share our passion for creating healthy communities through sport.