'It Has To Do With My Heritage' — Métis Kamloops Paddlers Win Big at 2019 Indigenous Provincials
---
---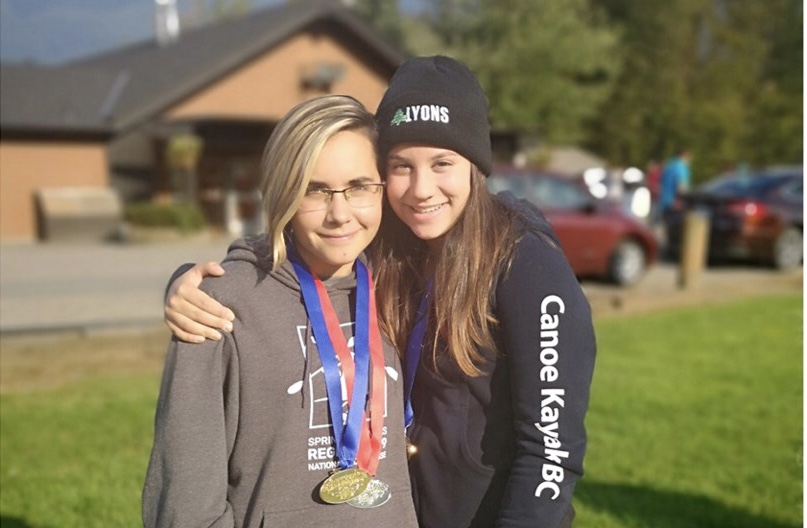 ---
Emma Guertin (right) has been recognized by the province and the Indigenous Sport, Physical Activity and Recreation Council. She is pictured with Kierra Willis.

Kierra Willis sounded like an old soul, the 15-year-old speaking eloquently about the sport she loves and its ties to her roots.
"It has to do with my heritage, with me being Métis," said Kierra, who had just broken from class at NorKam senior secondary on Wednesday afternoon.
"For me to go do something that represents Indigenous youth in sport and their excellence in it, it just helps me kind of connect to my heritage and show people what we can do."
She showed them, all right. So did fellow Kamloops Canoe and Kayak Club member Emma Guertin.
The duo returned home from the B.C. Aboriginal Provincial Canoe/Kayak Championships last month in Agassiz toting six medals, three apiece earned in one-person kayak races.
Emma, competing in the under-18 division, won gold in the 200-metre, 1,000m and 3,000m. Willis, paddling in the under-15 division, finished atop the podium in the 200m and 3,000m events and claimed silver in the 1,000m.
"There was a couple of girls who were fairly close to them, but they definitely did dominate," said Shaunda Willis, Kierra's mother.
"Our girls can train five days a week all summer."
Head Coach, Stan Marek, has long been sending KCKC athletes to national and international events, running a program at Shumway Lake that rivals the best in the province.
Emma and Kierra are expected to crack the Team B.C. development squad, from which athletes will be chosen to compete at the 2020 North American Indigenous Games, which will run from July 12 to July 19 in Halifax.
"Canoe/kayak is already such a tradition in many Aboriginal and Indigenous cultures," Kierra said. "Being able to go and represent for Team B.C., for my culture, would be a huge way to bring that heritage into the spotlight for some people, especially the people around me."
Kierra trains five days a week, from 8 a.m. to 4 p.m., during the summer.
"I train for kayaking the same as I do for school," she said.
The dedicated paddler usually practises between four to six days a week, for about two to three hours each day, in the spring, fall and winter.
"It's kind of what I do," Kierra said.
Training paid off for Kierra and Emma earlier this year with a trip to the Canoe Kayak Canada Sprint National Championships in Regina. Both reached finals in team-boat competition.
They seem likely to get more international experience next year in Halifax.
"It's another stepping stone in my kayaking career to go to a major competition like that," Kierra said.